Free 2D Distortion Shader for Unity URP
A downloadable asset pack
Free 2D Distortion Shader for Unity URP
Add more realism to your fire and fluid effects in your 2D Scene with this Free 2D Distortion Shader for Unity URP!! This shader is helpful for scenarios that demand some subtle or aggressive distortion effects like areas near an open flame, hot surfaces, underwater, etc.
Instructions to Use -
1. Make sure your Project is set up with UNITY URP. If not, then you can install it via Unity Hub while starting a new project or you can Install the Universal RP from the Package Manager. To Install via Unity Hub at the time of creating a fresh project, just select the URP from the Project Template and Fillup in other details like Project Name, Project Path, and then hit Create.
Alternatively, if you are already in an existing project, just check this link from Unity Documentation for upgrading your existing project to Unity URP - https://docs.unity3d.com/Packages/com.unity.render-pipelines.universal@7.1/manua...
2. Now Import the Free 2D Distortion Shader Unity URP using the Import Packages -> Custom Package Option available in the Asset Menu.
If the Shader appears to be Pink then you might be missing something during the Project Setup. Make sure your project Is well compatible with the Universal RP and have the Shadergraph package installed.
For more amazing Free Content visit the VOiD1 Gaming Website.
Support Us on Patreon and help us in making more awesome content for the Community


Your Donations keep us moving forward!! You can donate to us over at Buy Me a Coffee as well!



Download
Click download now to get access to the following files:
Free 2D Distortion Shader Unity URP.unitypackage
5 kB
Free 2D Distortion Shader for Unity URP License.pdf
12 MB
Comments
Log in with itch.io to leave a comment.
I am new to unity, please explain how to use it
Hey, First of all, welcome to Game Development especially using Unity! We hope you will have a great time developing awesome games!

Secondly, using our shader assets is pretty easy..... just make sure your project is using URP, then just drop our shader material to any of the sprites you want to act as a distortion effect. That's all. The settings to tweak the effect can be found on the shader itself to get the right feel.


Hope this helps.

Thank you for reply! I tried doing so, but the object becomes gray, also SpriteRenderer component says: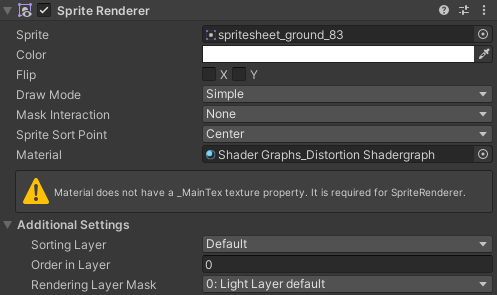 and I have not found a way to fix this.

My project uses URP

The Distortion Sprite needs to be on the top layer, and you can use just a simple square sprite found in Unity 2D Sprite. Your ground should be a different sprite renderer placed on the base layer, and this distortion shader sprite to be placed on top of it. Now anything below the distortion shader sprite would look a bit distorted or wavy in nature. Furthermore, you can scale this sprite as per your needs and also tweak settings to get the desired result for your game. Hope this helps!
Thanks a lot for checking it out!!